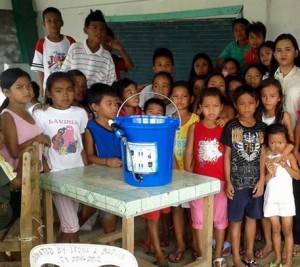 One of Rose Charities most fundamental principles is linkage and coordination with reliable partners to generate synergy to increase impact where needed.  Notable major Rose partners in the Philippines Hiayan disaster for assistance in the Negros area have been the Bacolod North Rotary Club and  
Kopernik
 Technology Organization in Indonesia.  Rose Charities linked these two organizations during our first response mission to Negros a few days after the disaster had struck and the synergy has continued with outstanding work from all.
3,820 survivors have been reached in the latest phase of operations with the supply by Kopernik of solar lights and water filter systems. Distribution has been carried out by the Bacolod  Rotary with significant funding coming from Rose Charities USA and Canada.  The solar light systems not only provide bright light at night but also enable mobiles phones to be charged.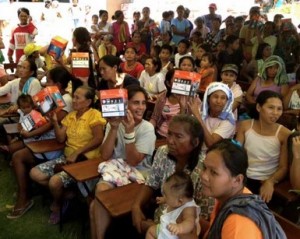 The North Bacolod Rotary club distributed  the technologies over one month in Northern Iloilo; President Roxas Town, Northern Panay; Loguinot Island, Northern Iloilo Province; as well as in the cities of Cadiz, Sagay and Bacolod in Northern Negros. They managed very difficult logistics to ensure the water filters and solar lights reached those who needed them the most.
Even now though,  four months after the typhoon struck there are still many areas where people are struggling to rebuild their homes and their lives.  Bacolod North Rotary is being supported by Rose Charities to build boats for fishing families, to re-construct a major health clinic and other structural needs
Kopernik
Technologies is a social-enterprise oriented community technology initiative which supplies appropriate and much needed technology to developing countries. Their support and speed of response in the Philippine Haiyan disaster has been outstanding.   Kopernik has also been coordinating with major Rose Charities partner
AMDA International
 .   An informal, but highly functional network thus formed very early on in the course of the disaster which has generated a considerable synergy in the delivery of assistance to many areas of the Philippines  and many many thousands in need.